Hello everyone! It has been longer than I expected in writing this newsletter, and my apologies for that. Life became incredibly busy and hectic which brought many unexpected blessings and as well as challenges. But i made it through and with a new collection of paintings as well!
After the spring I went back to basics and quite literally- the drawing board. I wanted to capture the essence of what I love about the living here in the Pacific North West, or the West Coast. And when I went to make a list (because I do love a good list) and I realised there were just so many things! Too many things that I love about the Coast. The water, the Rain, Oceans and lakes to be more specific, and the mountains. These mountains are not just any kind of mountain, they are new(er) than their sisters in other areas of this continent. In many ways they are still being formed (Vancouver Island is sub-ducting underneath the North American Plate for instance). But they are also louder, prouder, taller and more striking than many mountains I have seen in Canada or even the world. They have an energy about them that I can't quite put into words so I put it into paint and let my palette take over. When I dug even deep into the mysteries of my connection to the Coast I realised it is the combination of water, mountains, rain, mist and fog that make up the ethereal beauty of this area that truly sings to my heart. So without further delay I bring you my latest series and Summer Release – The Misty Mountains:
Misty Mountain I 6×9 Fine Art Paper Misty Mountain II 8×10 Fine Art Paper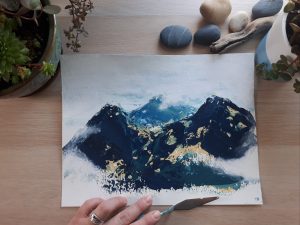 Misty Mountain III 6×9 Fine Art Paper Misty Mountain IV 6×9 Fine Art Paper
Misty Mountain VII 16 x 20 On Canvas Misty Mountain VIII 6×9 Fine Art Paper
Misty Mountain X 11×14 On Canvas Emerald Hills I 6×9 Fine Art Paper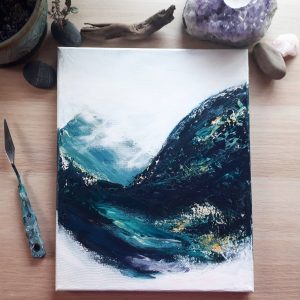 Cultus Lake Mountains 11×14 Fine Art Paper Stormy Cultus Lake 11 x 14 Fine Art Paper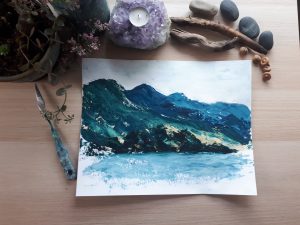 Copper Hills II 6×9 Fine Art Paper Copper Hills III 6×9 Fine Art Paper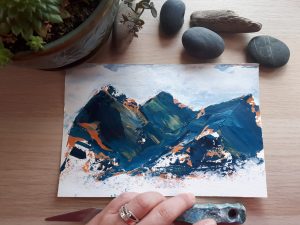 Midnight Mountain 6×9 Fine Art Paper
They have been added to my shop and are waiting for you to peruse. Thanks for reading and thanks for your support! It is amazing collectors like you who help make my art possible.
Best,
Melissa