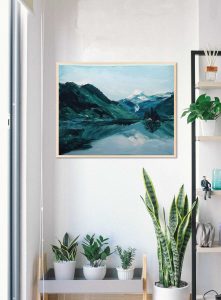 Thanks so much for taking an interest in my work!
I would be honored to help create that special piece of artwork that you are looking for! With your ideas, my creativity and skills I know we can create that special piece of art for you to treasure for years to come.
Building upon the abstract/impressionistic style of my work I can create a new original piece in collaboration with your ideas and needs, or recreate a piece already in my collection in a different size or colour. I will provide a timeline for completion and progression photos along the way gaining your input as to whether it is in the direction you desire.
I can also provide a free colour consultation for the piece if you like, to make sure the colours of the piece will compliment and coordinate with the colours of your home. Don't live in Vancouver or the lower mainland? Not to worry! I can still do a consultation long distance. Simply take a picture of where you want the piece to hang and we can go from there.
I also have a blog post here that can possibly help answer any questions you may have. 
Otherwise, feel free to contact me with your questions or ideas by filling out the form below, the consultation is absolutely free!