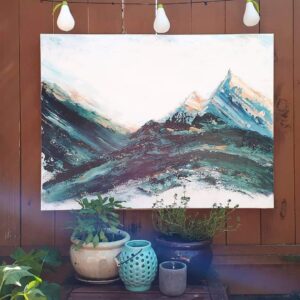 Custom art can be an amazing way to find the perfect piece to finish off a space in your home. Not only are you working with the artist of your choice (possibly your favorite artist??) but you can also get the right colours, composition and feeling that you are looking for!
 I personally love collaborating with my clients over that special piece they are desiring. It is immensely satisfying to know that with your ideas and my skills, together we can create that special piece of art for you to treasure for years to come!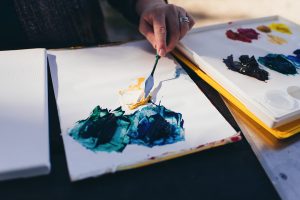 So how do you go about ordering a custom piece of art? And what is the process? And How much does it cost? I get this question a lot and I wanted to outline the process here so you know what to expect! 
Most of my clients take a look at my work and like my style and subject matter but have specific colours,size or subjects that they want for their piece that I don't currently have on offer, which is great!
So the next step is to contact me by either filling out this form here, or by emailing me, or even DM'ing/Messaging me on either Ingstagam or Facebook! 
Then we can begin to go over the details of your idea: the size; materials ( canvas or paper, gold leaf or silver); what colours you prefer or are drawn to and subject matter ( building from my abstracted landscapes, florals of course).
Once we have those details ironed out I can then provide you with a quote of the cost of the piece and shipping. Typically most of my custom pieces are not much more than my pieces that are already finished and listed in my shop. This surprises many of my clients as they assume custom = more money.  But not with my pieces! Where it may end up being slightly more is if there are different materials involved (gold leaf, mixed media, a specific finish for a canvas, etc.) If it is a larger piece (usually  larger than 18″x 24″) being shipped across country or internationally it will likely have to come off of it's wood framers and lovingly packaged so no harm with come to it and shipped rolled. You can hire a private framer locally or take it to a place such as De Serres or Michael's to have it put back on it's stretcher bars for a fee. 
Once I have the go ahead I will send you a custom art form to fill out and send back along with 50% non-refundable deposit before I begin. The deposit is so that I can buy the supplies and begin the painting. 
Now that the initial concept is formed, deposit is paid, the form completed and supplies purchased I then sketch out a palette of the colours for you to choose from so you can choose the exact colours you want and that I know to work with.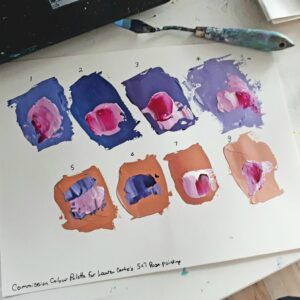 Then I will paint a little study of the piece for your approval. This helps us lay out the initial compositions of the piece and then we know what to leave or adjust for the final piece.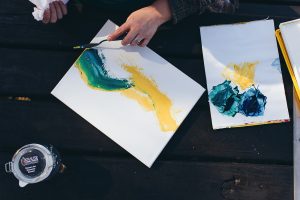 We have two two chances to change the piece along the way and I will provide you with picture updates and gather your feed back before proceeding further.
Once you are 100% satisfied with your piece I will invoice you for the remainder of the amount of the piece. I will then name it, sign and date it, varnish it and write a personalised message of your choice on the back. 
And then, all that is left will be to wrap it and ship it and join you in a happy dance as your one of a kind piece of art will be on it's way to your loving arms!
Also, if you are looking for a custom piece but are unsure of  what colours would work in your space I can provide a free colour consultation! I can make sure the colours of the piece will compliment and coordinate with the colours of your home. Don't live in Vancouver or the lower mainland? Not to worry! I can still do a consultation long distance. Simply take a picture of where you want the piece to hang and we can go from there.
I hope that helps answer some questions you may have about ordering a custom piece with me. And as always, if you are unsure about something in the process just ask! I am happy to help.
All the best,