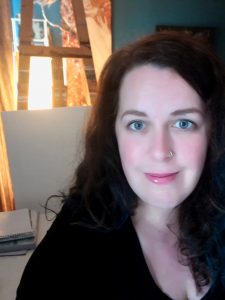 Hello everyone! Thanks for being here and I hope all is well. I have some new subscribers and I thought I would introduce myself properly and tell you a little bit about my journey for those that don't know.
Hi, my name is Melissa and I am an intuitive artist specialising primarily in abstract paintings, although I have been experimenting with more and more impressionist nature art as well. I am mostly self-taught, having taken only a few courses in high school and University. I have been drawing, painting, crafting, writing and creating art since I was a child. It is fundamentally part of who I am and without it I feel incomplete.
Since I was as young a 7 years old I have always known that I was meant to be an artist. It was something that I loved deeply and never felt complete without. Growing up I would always draw and paint the pastoral scenes I saw on my parents farm and as I got older I played with my own fantasy scenes and characters.
However, as my seriousness with art deepened, my family began discouraging me as they were afraid I would become a starving artist as an adult. It discouraged me over time and I eventually stopped creating in favour of studying for more "practical" jobs. I worked at those jobs, several different ones in fact, over the course of my twenties and none of them were fulfilling enough to call home. Then, after my Mother passed away, I found boxes of her artwork in her belongings. I couldn't believe that she had still kept up her own art practice all these years and it inspired me to start painting again. The initial burst of creativity helped me though my grief, to accept the loss of my mother, and to reconnect with myself and what I lost. But my journey back to being confident enough to really, truly accept that I was a creative person, an artist was only about to begin. My confidence in my own ability was so low because of years of self-doubt and negative self-talk that it took literally years of work, trial and error, loving support from friends and my family to get me to the place that I am now, sharing my work and here writing to you.
If you have lasted this far I thank you for reading and I thank you for being here, your support means the world to me!
Sincerely,
Melissa Critchlow